Tripawds is a user-supported community. Thank you for your support!
Hi everyone!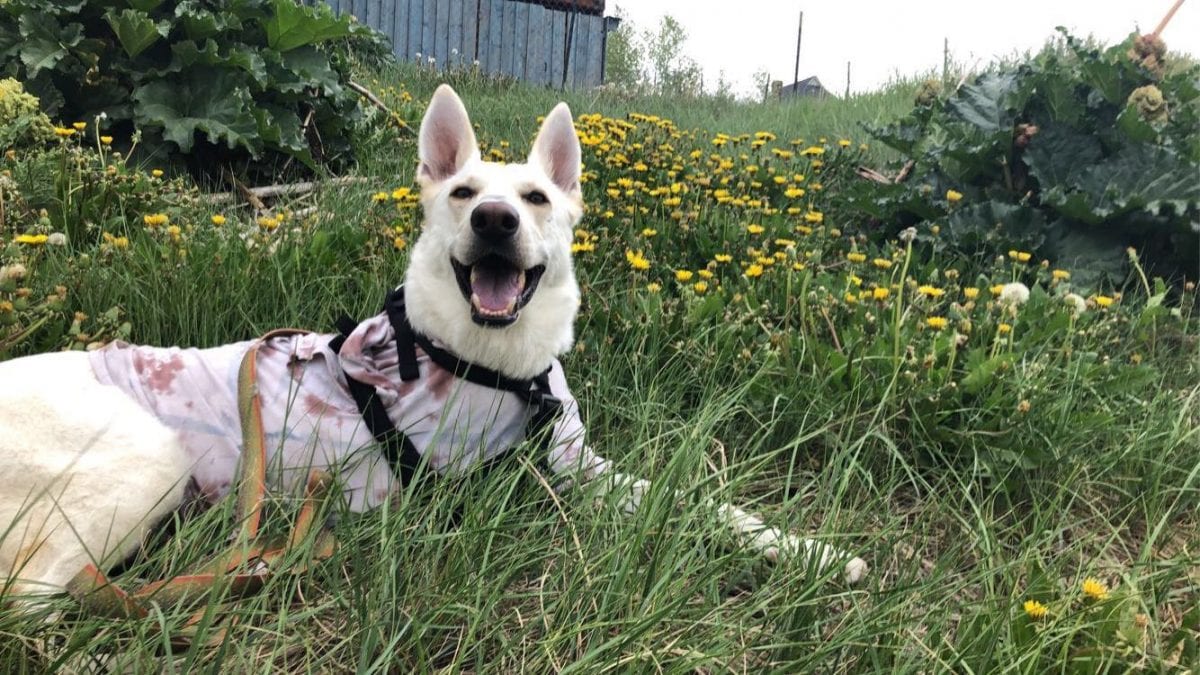 I guess I'll start with an introduction. My name is Adrian, my best pal is named Berlin. We live in the mountains of Colorado. He's a 3-year-old white German Shepherd with a heck of a personality. We rescued/adopted him in June of 2019. His previous owners acquired him from a puppy mill in MO off Route 66. (I don't support that, nor do I want to talk about it). He was so timid, nervous, terrified of men, and he just wouldn't leave my side. He's still a momma's boy, but he loves his human dad too and is learning to trust men because of his dad's patience and help. His favorite thing to do is play fetch and go for a car ride, especially if there's an adventure involved. On all four, he loved to pull us on our snowboards and run alongside us riding down after the ski resorts closed (thanks covid). His birthday is Earth Day, I'm not sure why that matters but anyway let's get to the reason we ended up here.
In May, we noticed Berlin had a swollen ankle area, we thought it was sprained. He loves to jump around and explore on the trails, it wouldn't be the first time he's injured himself, either. We went to our local vet and he agreed, we didn't think an x-ray was necessary right away. Seems like a sprain, all symptoms consistent with that. We waited a couple of weeks, and this just seemed to get worse every day. I had a weird feeling that I just needed that X-ray done. We went for his first x-ray on May 29th.
May 29th ripped my heart right out of my chest.
Our doctor took a while to look at the Xrays, our concern grew with every passing moment. He came out and asked us to please come to look at what he had found. I'm sorry doctor, what you…found??? Is it broken that bad? He had piles of reference x-rays and books open everywhere, every counter in the room was full. I looked up and finally saw what he was seeing. "I think this could be a tumor. You should be in contact with a specialty vet and oncologist right away." I should contact who? Oncology? Doctor, he's 3, are you sure? He just turned 3…
I called oncology at VRCC that day and they called me back the next day to schedule our first appointment with Dr. Swift. We don't know for sure if it's cancerous yet. Berlin's first oncology appointment was June 2nd. A month since this tumor showed up to wreck it all. His Xrays showed an aggressive tumor on his front right carpal area with a pathological fracture to the bone. Amputation has to happen. We had discussed this already, and mentally we were ready to have to amputate Berlin before we even found out about the fracture. The doctors were ready to amputate that day, but it was at least $2000 cheaper to schedule the surgery out a few days. We asked to be put on the waitlist for cancellation calls and scheduled surgery for June 9th. Just one week.
I set up a Waggle campaign and posted my PayPal for my friends and family to make donations. Berlin is my best friend and he makes everyone around him SO happy. In short, everyone who has ever known Berlin loves him very much. Hard not to with a face like that, though. In a few days, our friends and family donated about $4000. Nobody is letting berlin lose this fight. A friend that lives nearby asked for my paypal and donated $2000 himself. We're fortunate to have people surrounding us who are so supportive. Hours later, I got a call from the vet. "We have an opening tomorrow at 8:30, are you guys ready to come in?" Yes. We are.
June 5th: Berlin did great with his surgery, no complications. Things are weird right now with COVID procedures, we weren't allowed in the building for any of his visits. The surgeon and nurses called with lots of updates. (Dr. Devitt was our surgeon). The general consensus was that Berlin is awesome, he's a good boy, he loves the nurses, and his nurses love him. I'm so proud of this dog for how well he is adapting to tripawd life.
I also want to give a quick shoutout to VRCC in Englewood. The work between departments is seamless. Every single person there has extended the most kindness and patience I have seen from any vet, especially one operating as a pet emergency room as well. Thank you for all of the encouragement for us and Berlin, VRCC. We appreciate your work. (Let me also just point out that you should never let your oncologist *or any vet* feel unappreciated. It might not be the news you want, but it could be just as hard for them to go through it as it is you. They lose multiple patients a day, no matter how hard everyone fights it.)
Berlin was officially diagnosed with Osteosarcoma on June 12th, 2020 after his histopathy results came back.
We are now one day short of 3 weeks post-op. Berlin's first chemo treatment was yesterday, June 24th. He is getting IV carboplatin for his treatments with Dr. Benner. I'm nervous to really get started with this journey. I don't know what to expect, but I've been reading a lot of blog posts about diet, supplements, and physical therapy. I want to give Berlin the best life he can have for as long as he can live it.
I'm considering adding the following supplements to his food, and he already takes CBD every day. Cod liver oil/omega3 daily, Hoxsey formula with boneset, Artemix, and I definitely want to get the k9 immunity plus treats.
I am also looking into a home-cooked option to mix in with his kibble for breakfast and/or dinner. Berlin does best with grain free food, he's currently eating taste of the wild pacific stream. I usually mix in some cooked chicken or eggs, but now diet is very important so I need something more nutritionally beneficial for the pup. My plan is to incorporate some ground meat, spinach, cooked broccoli, green beans/peas, carrots. Is there anything I should know before selecting meat or veggies?
Any advice appreciated. This community has already helped us so much, I can't wait to talk to more of you.
Yes, Berlin has an Instagram if you would like to connect there: @berlin_the_german_tripod